Thinking of visiting the Republic of South Korea on your next vacation? Read thru this article to know 7 vital information that can make the most of your trip to Republic of South Korea!
1. Prepare your paperwork and travel related document!
Most people may think of K-pop, K-drama and extensive title of game Industry to associate the charm of South Korea. Planning a trip to South Korea is not that complicated, even for a first time traveler. Firstly, you need to get your VISA clearance and travel document ready!
Thanks to the worldwide popularity of Korean Wave ( Hanryu, Hangul: 한류), or more commonly romanized as Hallyu, cities in South Korea has become one of the top destinations in Asia. With this tour you get to experience it for yourself. Travelers visit the many sites of interest in Seoul to hunt for the alluring Instagrammable photos and to rekindle the dramatic scenes of Korean dramas and movies. You can also learn about their people's history in South Korea. From the remnants of the past, you can immediately see that Korea had close relations with the dynasties in China, and some Korean kingdoms were also members of the Imperial Chinese tributary system. Some even visit the cities in South Korea for business or work-related reasons.
The tourism sector in South Korea is pretty much influenced by the South Korean government's effort in supporting their popular culture and their manufacturing industries. However, South Korea is also known as one of the strictest destinations to apply for a VISA. The government of South Korea applies different criteria to filter visitors based on their motivation to enter and their country's interest. Every traveler are screened differently subject to undisclosed considerations as well. You may opt to apply for a tourist or social visa, student permit visa, or business and working permit visa. As a first time visitor, you need to comply with the general requirement of pre-approval method that is applicable to your particular passport. VISA policies in entering South Korea are strictly regulated based on your point of entry, the purpose of your visit, the issuer of your passport and your country of origin.
Let say you hold a passport that was issued in Canada, you will have the privilege of staying in South Korea for 180 days. Tourists who hold a passport from regions such as the European Union (except Cyprus), Japan, Singapore, Malaysian, Thailand, may enjoy VISA exemption privileges to see Darangee Village (Hangul:경상남도 남해 가천 다랭이마을) or any destination in South Korea up to 90 days. During 90 days of your stay as a tourist, you can have enough time and do a backpacking trip across the country without worrying your status or paying additional visa there. Be advised that such privileges are subject to change without notice. Feel free to contact the Korean diplomatic mission of your own country for further details.
For business visitors who hold APEC Business Travel Card (ABTC) containing the "KOR" code, it is valid for travel to South Korea and can enter visa-free for business trips for up to 90 days. However you might need pre-approval even if your country of origin has been listed for a visa exemption to enter South Korea. Another document might be required from a local sponsor or related endorser to verify your purpose of visit. Then, if you would like to extend as a tourist on vacation, you will need to apply and visit the nearest Immigration office prior to expiry dates.
In general, all visitors that would like to enter South Korea must ensure that their passport is valid for at least 6 months, and able to present proof of where to stay and financial capability. Duty-free products can be carried as baggage up to total value of KRW 100.000. Be advised that such policy is subject to the item-specific quantity and/or weight limits. For more information, you can read further on http://www.customs.go.kr/
Keep in mind about the necessary details of your stay, your passport, and visa validity. You can bring along copies of your Tripcetera hotel receipt and booking reference in the city corner of Seoul, Busan, Jeju island and many destinations in South Korea, on any case you need to show it to the authorities. If you are still unsure about how to extend and proceed, you may always get in touch with your country's embassy for any requirements.
2. Get the overview on the demographics and the culture of South Korea!
Planning a trip to South Korea or any destination around the world can be both fun and frustrating as well. Buying a flight ticket to South Korea's Incheon International Airport (IIA) (IATA: ICN, ICAO: RKSI) (sometimes referred to as Seoul–Incheon International Airport), is only half of the story. To get an authentic experience, you also need to know about basic greetings and appropriate gestures that you can use to communicate with the locals in South Korea.
Perhaps there is much you don't know about how to actually manage your expectation on any destination in South Korea. By knowing the culture of the majority of its people, you can easily navigate the city. South Korea is noted as a homogenous society and Christianity is South Korea's largest organized religion. You can draw a conclusion that the people in the city of Seoul are ethnically and culturally similar with people in Jeju or Nami Island. You can also expect that South Korean's public holiday also include Christmas as well as the new year festival. If you want to experience the Christmas and New Year season in South Korea, you might want to book in advance with Tripcetera today.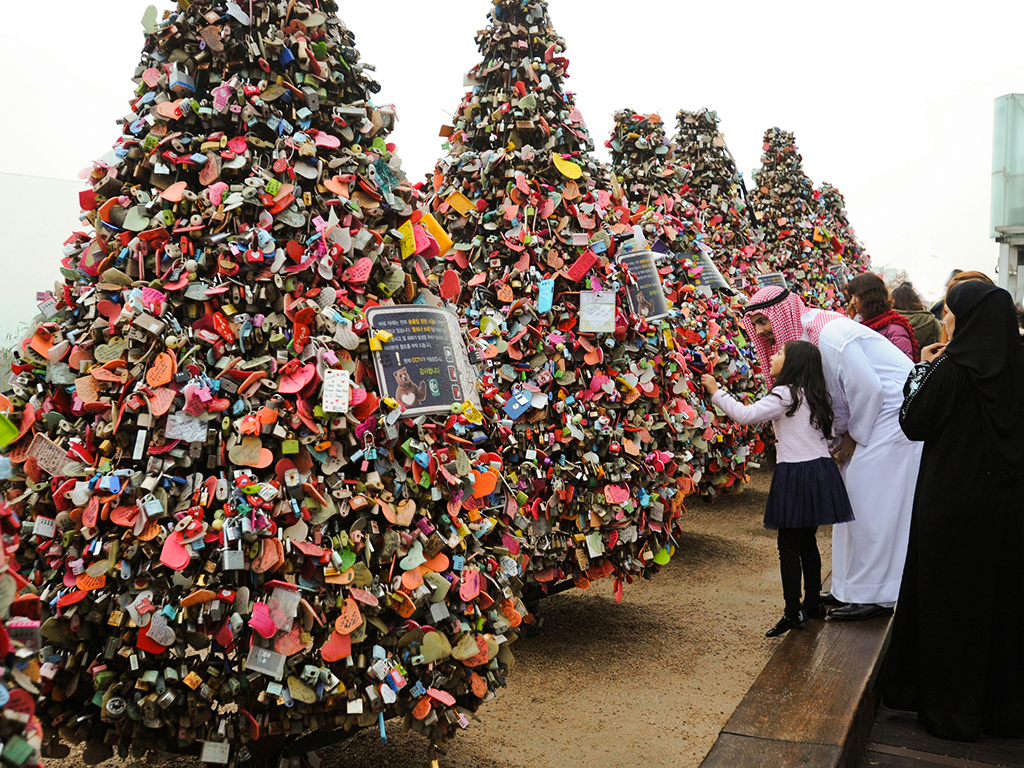 In public places, South Koreans usually greet each other by bowing their head slightly. However, handshakes accompanied with slightly bowing is only common for Korean men than women. Waving your right hand, smile and saying 'hi' or Hello in Korean (Hangul: 안녕하세요 or annyeonghaseyo) is also accepted as you ask for direction to just about anyone. If your Korean vocabulary is limited, worry not. English is also widely learned by South Koreans. Your fluency in English should be okay to help you navigate the city such as Seoul. However, due to their unique accent, you may find it difficult to understand the pronunciation and vice versa. The locals may understand you better if you write the words down.
As a non-touching culture, South Koreans are also quite reserved on displaying affection in public. To address a person, South Korean dictates the use of family name or job titles (i.e. teachers, bosses, etc.). instead of their front names. The locals also call others by their social status and kinship.
The locals in South Korea are smoking cigarettes and enjoy chewing gums freely just about anywhere on the public place such as the corner of a Metro station, the front of a convenient store, public gardens, and parks. As a tourists, be sure to also ask permission when you take a picture in certain places as it may be considered inappropriate by the locals and may incite suspicion.
While the hospitality industry in the Western world considers leaving a tip as a way to appreciate the services, in South Korea such gesture is not obligatory. Don't be surprised if the bartender in the pub or taxi driver that you will meet may refuse your tips. You can simply mention "keep the change" to imply tipping instead. You need the sensitivity to understand this matter long before your arrival.
Most people in South Korea rely on public transportation – Metro line and bus to commute, and cars. You can easily find them anywhere. South Korea's cities such as Busan are also pretty much a car culture where most roads are sufficient and train stations that offer parking space for car owners. On a walking street, you should also expect parcel delivery scooters and electric moped that is going in and out of narrow alley road. Take extra precaution when you encounter a few.
For some, South Korean cuisine may be an acquired taste, but worry not! Most menu and prices are listed in Korean Won – some vendor may even have accompanying Roman alphabets. For those of you who are looking for vegetarian dishes or halal menu, feel free to also check which hotels, resort, villas or home stay in South Korea that offer such services in Tripcetera.com.
As a first time visitor to South Korea, you can also expect the common sight of pojang macha (포장 마차, in English: Food stall) that serve wide variety of food and alcoholic beverages quite similar with Yattai in Japan or in Thailand. The street food scene in South Korea is also a place where people meet, be social and share life-work stories with each other.
As you stroll along the Food Alley on Namdaemun Market, you can buy a variety of Korean steamed corn, dakkochi (chicken skewers), savory fried chicken with Kimchi, Twigim (Korean-style tempura) and more. You can also find the Korean's signature dish such as Galbi – seasoned ribs on a skewer that typically comes from beef, pork or chicken. Galbi is very popular in South Korea even in the neighbouring Japan and Taiwan, you can always see it appear on many Korean dramas and movies as well. It is understandable why international tourists may love a serving of Galbi meat which has been marinated with mixtures of soy sauce, garlic, sugar, and sesame seeds. Be advised that dog meat is also casually served on South Korean food stalls.
3. South Korean pay almost everything with cards!
South Korean cities such as Seoul is pretty much near a 'cashless' society, although not as advanced as the city of Shenzhen, the People's Republic of China. Most snack bars, restaurants, diners are equipped with a debit card, credit card, T-money cards, and some of the newer establishments have barcode and app payment systems. Relying on a credit card and digital payment allows you to avoid over exchanging of cash and having an organized record of expenses during your vacation in South Korea. The merchant fee and hidden charges may vary and are not visible, especially after a long night strolling around the city such as Seoul or Pyongchang.
If security in booking with credit card on random places concerns you, then we got you covered! Book your stay near to any cities in South Korea with Tripcetera.com at ease. Tripcetera is equipped with an extra layer of security with One-Time-Password codes. It allows our server to send the 'secret digits' or codes only to a specific user that are from currently or a previously registered communication channel such as mobile-phone SMS and/or e-mail address. This authentication mode is also known as "something you recognize, something you know."
You can use your credit card or PayPal account to immediately book any bed in South Korea with Tripcetera. However, for petty cash, don't forget to prepare a special wallet or pocket for immediate dispensing of local currencies. We advise you to also note that the local checkpoint authorities in South Korea will ask travelers to declare their cash amount in excess of US$10.000 or the equivalent amount in Korean Won or other foreign currency of the same amount in and out of the country. You can find related information regarding the passenger clearance and South Korean customs on http://www.customs.go.kr/
You may e advised to keep your South Korean Won notes in good condition. You are likely to also use vending machines during your stay. Vending and voucher machines has a variety of methods in detecting your notes.
4. Physical fitness and comfort while you are having the time of your life in South Korea!
During peak seasons or holidays in South Korea, it requires physical agility when queuing in Immigration checkpoints. If you a traveler with a long connecting flight or a transit flight, be advised that in certain terminals, they are also equipped with thermal scan cameras. This camera and body scan apparatus that they have may detect anyone with abnormal body temperatures, which may indicate illness. Present your passport and ask for immediate help if you cannot withstand the queue due to health problems or other issue.
If you are a tourist from countries of tropical and hotter climate, be advised to dress appropriately with the season in South Korea. It is advised that you should manage your own physical fitness and personal comfort as you engage in trekking and walking activities.
Keeping your health while having the time of your life in South Korea should be your main priority. Furthermore, if you do travel on medication or in need of regular intake of medical pills, do not forget to also declare and bring printed copies of documents for your legally prescribed medication wherever you go.
It is certainly a good idea to vaccinate yourself before visiting any country to ensure your own health and comfort. It is true that for certain passport holders, it is not mandatory to have a vaccine document to apply for a VISA to visit Korea. However, as the flow of people in a big cities such as Seoul are high, you need to get yourself checked and ensure you are fit before your travel.
You should prepare accordingly with the change of climate. Let say you are taking a day tour package packed with all the place that you are eager to see. As you navigate Incheon, you need to also cover your nose to avoid inhaling of pollen, which triggers allergies during spring and autumn when there is abundant pollens in the air. If you visit Korea during summer, you need to hydrate better and use that bug repellent as well.
5. Safety measures in case of emergency during your stay in South Korea
Tripcetera allows you to book hotels or evouchers for someone else. You can ask the favour of anyone back home to book accommodation at many cities in South Korea with Tripcetera.com. You can ask them to send the Tripcetera evoucher and receipt to your email. You may refer to the 'Hotel booking Number' as listed on the hotel voucher and receipt for check-in reference. This is also practical as a back-up plan when you run out of funds during your time in South Korea.
The Republic of South Korea i a peaceful country. However, by traveling here, you are also exposed to risking your life on a crossfire between North Korea and South Korea that can happen at any time. It is up to you to decide when is a safe time to travel. Simply highlight the developments and travel advisories issued by the government of your country. It is a good idea to keep a contact of your local embassy or consulate office of your country in South Korea for emergency measure.
In case of either natural disasters or in case of missile attacks from North Korea, you can immediately hear the early warning system and blaring sounds of sirens citywide. Don't panic if you hear such sirens during your stay here. It is true that in time of dire threat, nearly all towns and cities in South Korea are equipped with evacuation route and precautionary safe room bunker, especially in metro stations for civil defense purpose. However, not all sirens that you hear is intended as a real warning. South Korean authorities also run the sirens to hold civil defense drills every month to prepare for such events.
To communicate a certain preference on your dietary, you might want to check the hotels or the tour provider whether they have halal foods menus, vegetarian menu, or inform certain food ingredients that you cannot consume before hand. Book your bed in advance in Tripcetera and find a convenient stay on any cities in South Korea that will satisfy you and your companion.
You may have the best itinerary on your trip to South Korea, but what if you are waking up and feeling unwell in an unfamiliar place that is distant away from their home country? Have no worries. You can expect one of the world's finest medical care and services in South Korea. If you think you are not feeling very well during your vacation, do not hesitate to have yourself checked. Their hospitals have advanced medical equipment and facilities readily available, ranking 4th for MRI units per capita and 6th for CT scanners per capita in the OECD. After all, a memorable vacation can only be enjoyed when you are fit and ready for the day.
Also Read: Trip To Vietnam: How To Get A Memorable Experience For Your First Time Visit.
6. Stay connected on your trip to South Korea
As a first time traveler to South Korea, you definitely want to use your smartphone to navigate the places of interest that you want to discover, especially in a vibrant city such as Busan. Smartphone nowadays are equipped with an amazing array of functionality, especially if you want to flood your social media with quality feeds that can make your friends back home envy of your vacation.
You should expect that the signal of local operators may not be as good as on the internet WIFI of your selected hotels. Don't forget to keep your smartphone with you all the time. To keep your devices' battery fully charged everywhere you go, you should bring your own electrical socket that is compatible with plugs Type C and Type F (two flat vertical pins) and bring power converter, that will be compatible with most South Korean electrical outlets. Be cautious if you are a tourist from countries of different standard voltage. Cities in South Korea operates on 220 Volt, which is different from North America (120V). By keeping your electrical logistic sorted and having a local Internet connectivity with power bank devices, you can immediately purchase travel packages and find interesting activities in the format of evouchers in Tripcetera.
7. Build a reasonable itinerary to manage your expectation on visiting South Korea!
For a first time traveler to Korea, it is easy to get carried away and put so many places to visit within a very limited timeline and budget. It is true that you can easily manage your expectation. Every traveler should have a set of a thematic trip with an attainable goal when planning. Start building your itinerary with Tripcetera today. Depends on the season, your bed in Incheon starts from S$48++.
South Korea has a complex train and metro network that spans from major cities and industrial complex all the way to their entertainment district that crowded with people 24 hours. Due to the excellent connectivity, South Korea is also attractive for tourist who considers going there during the off-peak season. You can make a predictable itinerary or go on the impulsive itinerary, especially if you are planning a trip to South Korea as a group. However, you should also be flexible in organizing alternative activities or destination. During the summer, the humidity and heat may drain you and certain attractions are not available during a heavy rain.
Let's say you want to get authentic Korean culture by getting as many Insta-worthy experiences on the world heritage Suwon Hwaseong Fortress. You can do so by booking Tripcetera's Etcetera voucher. You can capture the remnants of King Jungjo of Joseon Dynasty that emphasized splendor and beauty of structure during the fortress was built. Hwaseong Fortress is a unique castle where the western and eastern theory of military facility was combined.
By respecting the local regulation, and warning instruction of not altering or imposing anything on such sites, you are free to roam the land and collect that Insta-worthy photos. Feel free to find activities with an alternate itinerary in Tripcetera.com today!
Plan your holiday with Tripcetera.com and visit your dream destination within a few clicks away. Sign up as a member today and start building your very own itinerary right away!
---
Trip To South Korea: 7 things that you wish you knew before visiting South Korea!