They say traveling is essential to help you experience different cultures. On this article we cover selected destinations in the cities located in the mainland of Sumatra Indonesia for 3+ days of travel that you may want to consider for your 2019 adventure trips:
1. Trekking and eco-tourism in Mount Leuser Natural Parks on 4 days, 3 nights package
The Mount Leuser region is noted as North Sumatera's last resort of preserved jungle and endemic species. The picturesque natural landscapes are formed by the ancient uplifted formations but non-volcanic hillside stretched in the region of Aceh to North Sumatera province of Indonesia. The region is also confirmed as the largest remaining wilderness area in South-East Asia. If you do have that many vacation leaves from work, and looking for a trip that can be enjoyed with family or friends, perhaps you might want to check out this package.
Situated approximately 86km northwest of the city Medan, Bukit Lawang is known as the world's largest animal sanctuary for Sumatran Orangutan (around 5.000 orangutan occupy the area). Bukit Lawang village is one of the trekking access to enter the Gunung Leuser National Park.
The mainland of Sumatra is the home for two species (out of three, the third one can be found in Borneo island of Malaysia and Indonesia) of the Sumatran orangutan (P. abelii) and the Tapanuli orangutan (P. tapanuliensis). You can get to learn how these amazing species live and roam around on the Mount Leuser and Bohorok's preserved natural park.
In this preserved national park, Orangutans can be seen at a safe distance. Orangutans are known to be the most intelligent primates as they have the ability to make use of a variety of tools to solve their daily problems like crafting elaborate sleeping nests from leaves, branches, and foliage. The Orangutan apes of Sumatra has a reddish or tea-colored body hair, a delicate creature with a social structure that have been extensively studied for their learning and interaction prowess.

If you do consider Mount Leuser for your next holiday destination, our partner host will pick you up from your hotel or The Kualanamu International Airport. Also known as Bandar Udara Internasional Kualanamu) (IATA: KNO, ICAO: WIMM), the airport is linked well with Malaysian cities (especially Penang and Kuala Lumpur) and Singapore by international flight. Be advised that on peak seasons such as Indonesian public holidays, the month of Ramadhan and Christmas, the airport is crowded and the queuing line in immigration checkpoint is draining.
It's easy if you are coming from Singapore. It takes about 120 minutes of flight from Singapore to Kualanamu airport in the North Sumatra. If you do want a direct pick-up easily from the airport to the National Park, then it takes about another 3 hours of land transport with a comfortable 5-seater minivan or 7-seater, depending on the number of pax. Once your booking has been confirmed, you need to inform the tour provider of your flight arrival estimates and bring your printed voucher and receipt along.
Alternatively, if you want your trip to the North Sumatra become adventurous, you can also consider Batam, Indonesia as your transit hub. Simply book a Batam ferry ride from Harbourfront Centre, Singapore to Nongsapura Ferry Terminal or Batam Center Ferry Terminal, then you can either stay in Batam or proceed directly to the domestic flight from Batam's Hang Nadim International Airport. From Batam, you can arrive at the Kualanamu Airport within 90 minutes of flight without the hectic immigration checkpoint queue.
2. Palembang – City of Sumatera for 3 days and 2 night vacation:
In this city, you can trace the origin of Malay culture thru its museums and socio-cultural landmarks, the blend of history that influence the local culinary scene. The exotic dishes offer seemingly familiar iteration of freshwater produce and the locals spices that will surely delight your taste buds and flood your Instagram gallery. You can definitely taste the harmony of its people of East Asian, West Asian and the natives' origin on your plate. Palembang is also known of its authentic blend of coffee, freshwater fish cakes and crackers, and Black tea. You could never go wrong in getting those as souvenirs for friends and family back home.
Palembang is noted as the city host for the late Asian Sporting Events in 2018. In case you missed the grand event, you can still discover Palembang's charm within 3 days and 2 night of vacation. The vibrant city is situated on the banks of Musi river, noted as the longest river in Sumatera which stretches over 750 kilometers.

Just like Batam city, checkpoint and VISA on arrival privileges are also enjoyed by many ASEAN passport holders and travelers from more than 62 countries. You can take a 90- minute flight to Palembang's Sultan Mahmud Badaruddin II International Airport from Singapore. Be advised that ride hailing services thru app is not allowed to pick you up at the airport, hence you need to book a car rental with driver in advance.
Travelers from Singapore can reach Palembang City within 2 hours of flight from Changi Airport. Depends on the season, you can start building your Palembang itinerary by finding a wide selection of hotels ranging from S$49/night to S$139++/night. You can also settle your car rental transport with designated drivers that range from S$82/day for a 7-seater MPV.
 3. Padang City of West Sumatera 4 days and 3 night vacation:
Have you ever tasted the rich and heavenly savored 'Rendang' dishes? Padang city is known not only as the homeland of rendang dishes but also for its natural and biodiversity conservation with the rich heritage of its people. 
The city of Padang is also known for its colonial history. In 1663, the city came under the authority of the Dutch and a trading post and remained part of the Dutch East Indies as one of its major cities until Indonesian independence. You can get to see the old town of Padang city's unique flair, feel life experiences with the locals, and discover the power spot of 37 Waterfall Destinations during the 4 days/3 nights package.

Travelers from Singapore can reach Padang City within 90 minutes of flight from Changi Airport. In Tripcetera, you can book from a wide selection of attractive activities offered via Etcetera vouchers. Start from S$300++/2 pax/package, you can choose cave trekking, cultural and scenic tours, surfing with Mentawai tribe, and more. Feel free to also book a 7-seater car rental with designated drivers which starts from S$77/ 8 hours, to cater to your preference.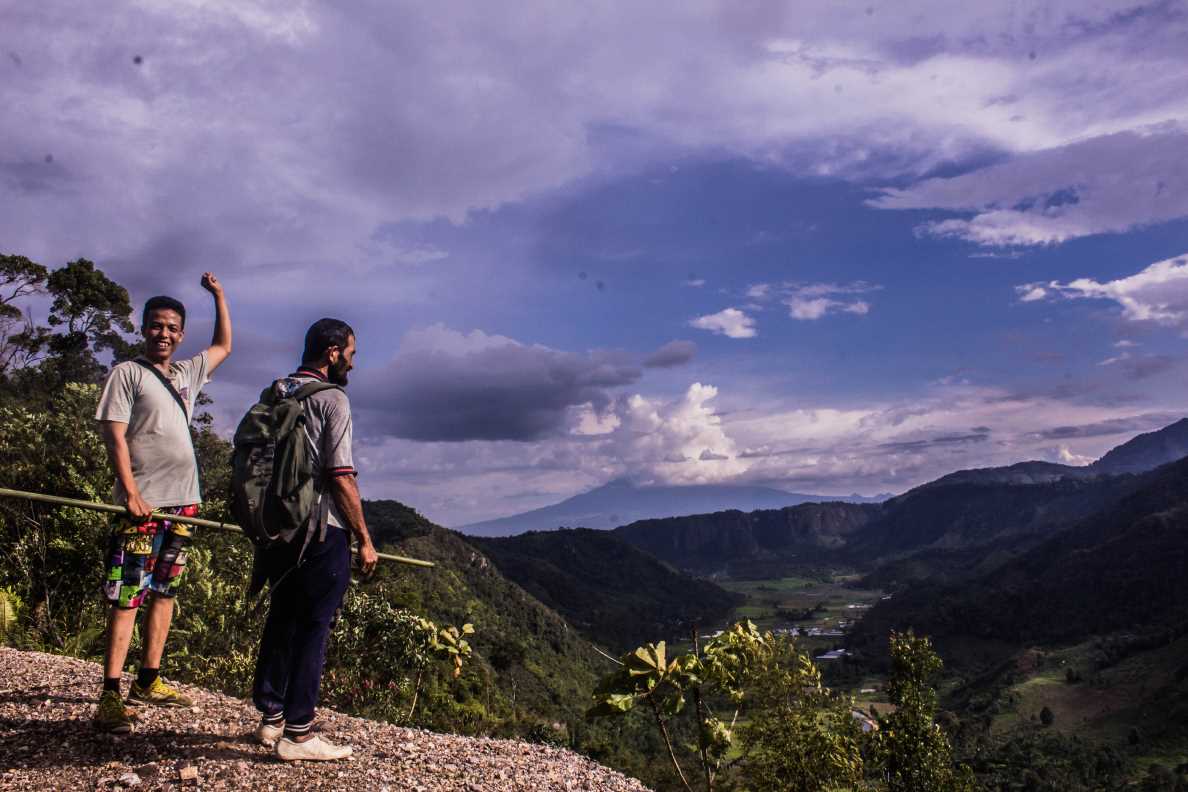 As the city center for West Sumatera province, the landscape is decorated with colonial landmarks and with one of the highest mountain peaks in Sumatera, followed by lush plains, hills and paddy fields on the valley along its main road. You can enjoy a picturesque view on your road trip, hiking trip on many power spots and waterfalls as the fresh air runs thru your lungs.
Also Read: What You Can Expect On Your Trip To Mentawai Islands?
Tripcetera Tips:
a. Cities in Sumatera mainland has many charms and places of interests, waiting to be discovered. It is easy to be pampered and spend all day long with the provided amenities in your selected hotel. Depends on the season and what kind of attraction that you are looking for, we advise you to arrange for 4 days and 3 nights of the trip or arrange an extendable holiday when planning a trip to any city in Sumatera.
b. To maximize your holiday experience, book your trip on any city at mainland Sumatera with Tripcetera at least a week in advance. It is also worth noting that an itenerary list of more than 3 days on vacation will help you to adjust the expectation and experience that will meet your budget.
c. For safety measures, you can also ask your family back home to book a hotel in advance in case you are running out of cash. With Tripcetera, anyone can book and purchase various listing thru a valid and secure payment channel.
d. Physical fitness is needed due to the frequent use of land transports and the tropical weather that may drain you. Always carry your own water or do not hesitate to ask your guide to stop at convenience stores on roadsides to replenish.
e. Learning basic Bahasa Indonesian phrases, greetings or common gesture may help you navigate the city and destination in Sumatra.
On your next trip, book your accommodation via Tripcetera and enjoy great deals. You can choose from over 200K+ Hotel properties worldwide! You can buy a ferry ticket, bus ticket, train ticket, etc. using our ticketing platform. You can rent a car from established rental companies and from individual car owners.
---
Tripcetera on Planning Your 3+ Days Vacation in Indonesia